Right after we got home from Colorado, Stephen had to get back to Midland but me, Mary Helen, Rachel, Mom & Dad drove down to Houston to see Baylor play in it's first bowl game since 1994. This was the first bowl game I'd ever been to & it was exciting. We got in the night before, went to dinner at our favorite - Del Friscos - then headed to bed. The day of the game, I got to go over to Alli's parents house to meet sweet Bennett for the first time! I was so so excited to meet this little bundle of love that I had been praying for and seeing pictures of for months. Alli is such a good momma & it was so fun to see her in action!
After that, we headed over to the Parkers where we met up with
Mary Liz & Edward
! We just had found out she was preggo!!! She sent the cutest little video of Edward trying to say "I"m going to be a big brotehr" over Christmas and it was so fun to hug her neck in person. We had fun just hanging out & visiting since the weather was HORRIBLE. It was raining, thundering, more than raining - it was terrible. We were supposed to meet up with Scarlett at her tailgate, but we only made it for a few min as the rain was runing everyone's plans. boo!
I had to document the fact that ML was going for Baylor! Sic' em!
Once I got to the game, it was family time :) Here's the crew...
Stan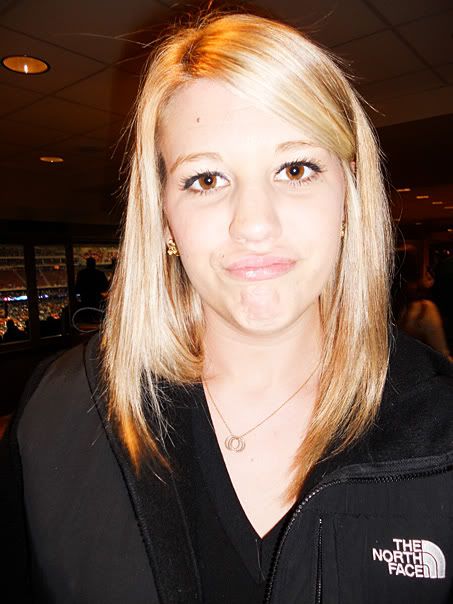 Rachel
Nick
Mary Helen
The game was pretty bad. I am a huge Baylor fan, and I was just pretty disappointed. But it was still really neat to get to have that experience and opportunity!
After the game, we headed back over to the Parkers for some hanging out.